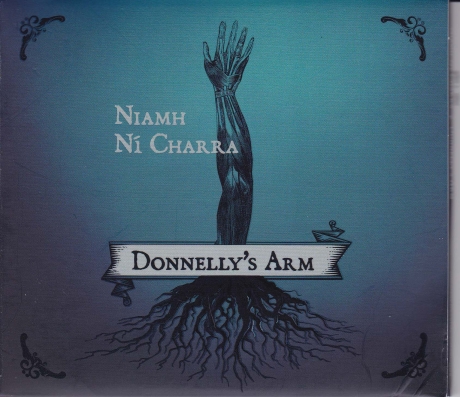 NIAMH NÍ CHARRA
Donnelly's Arm
Philippe Cousin
Born in Killarney, Kerry (South-West), Niamh Ní Charra started her career by accompanying Riverdance for eight years.
She is an excellent fiddle and concertina player, as well as a singer with a clear and airy voice. Strongly influenced by the music of her native region, Sliabh Luachra, she offers us eight years after the previous album, Cuz, a fifth album Donnelly's Arm. This strange title evokes the life and the singular history of a famous Dublin boxer, who died 200 years ago, whose arm was stolen post-mortem and was the object of an exhibition in various pubs.
Whether on fiddle or on concertina, Niamh has an incredibly light, swinging touch. Add to that an innate ability to write great tunes and you have a winning formula. On this album of eleven titles and no less than twenty-nine tracks, she has teamed up with guitarist Kevin Corbett and bodhrán player Dominic Keogh, who do the lion's share of the accompanying. But she also called on a few guests, including Kate Ellis, whose cello works wonders on the tune Eanach Dhúin, one of the most beautiful on the album.
The usual jigs, reels, barndances and waltzes associated with polkas and slides from Kerry are as much traditional as Niamh's compositions. Listening to it, we recognize the song Andy de Jarlis which made the beautiful days of Altan at the beginning of the 90s. Also the song Cad é Sin Don t'É Sin popularized by Tri Yann. Or the song Ceol an Phíobaire, a delicate melody on which the voice and the drones of the uilleann pipes join in perfect communion. More original, Amaitzeko Soñua, a Basque melody. From the first to the last note of this brilliant opus, Niamh's talent finds its full measure. Full of life and emotion, and that little extra that makes the music and its performer shine.
Imeartas Records IMCD005 - www.niamhnicharra.com