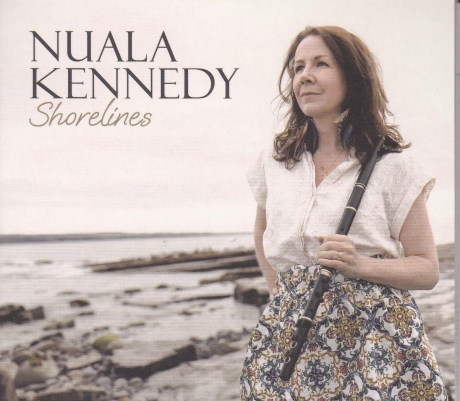 NUALA KENNEDY
Shorelines
Philippe Cousin
For almost 20 years now, Nuala Kennedy has been delighting us with her fluid music and ethereal voice.
After travelling from Dundalk to Glasgow, Nuala settled in County Clare on the west coast of Ireland a few years ago. A maritime county that inspires most of the nine tracks on her fifth album Shorelines. As always with Ireland and the ocean, emigration, mainly to North America, is a recurring theme, as is the loss of loved ones. Tales of fortitude and courage fuel this beautiful album, which highlights a collection of women's stories across the centuries and oceans: Sally Sit's Weeping, Blue Devil's Jig, Father Father, Marguerite...
Nuala has chosen traditional songs because they underline the resilience and dynamism of all the women who have lived through Ireland's history, mixing in here and there a few compositions inspired by the Clare coast. These include Salwater and Flow, inspired by the Breton coast and very similar to a suite of laridés.
Nuala has always collaborated with other musicians, whether in Oirialla with Gerry O'Connor and Gilles Le Bigot or in The Alt with John Doyle and Eamon O'Leary. This time she's turned to Tara Breen (fiddle) and Tony Byrne (guitar) to back her up. And then there's Caoimhin Vallely (piano), Moira Smiley and Muireann Nic Amhlaoibh (vocals) and Todd Sickafoose (double bass). A brilliant, seasoned artist, Nuala Kennedy once again offers us quality music, on an album bathed in the ebb and flow of tradition.
Autoproduit – www.nualakennedy.com