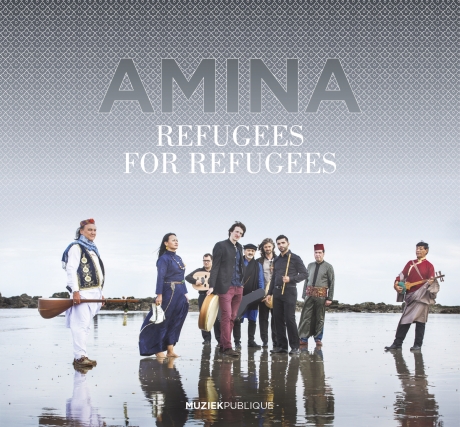 Amina
Refugees for Refugees
Etienne Bours
Listening to this album and reflecting on these many refugees offering us their music, some readings come to mind.
The inevitable Jack London first that said that "the proper function of man is to live, not to exist". Sacred London, he proved it to us by living at 200 per hour, burning the candle at both ends. To go extinct at age 40 after a busy life that also reminds us of Kris Kristofferson's (and Janis Joplin's) idea of ​​freedom, "freedom is just another word for nothing left to loose" (Me and Bobby McGee). London had nothing to lose, his freedom was often a priority because he wanted to live.
The Quebec writer Eric Plamondon, in his superb novel Taqawan, tells an old Indian sage: "It's past the time when we were content to live. From now on we begin to exist again.
Great difference between the life of the man and the existence of the group ... Live? Yes, but can we exist? could say many peoples on earth. Native Americans have been told "live on your reserves, put yourself there, it's a chance that we give you life and let us have peace" but in doing so we hardly recognize their existence as group, people, nation, entity ...
One of the musicians on the record we are talking about had to leave Syria in disaster. During a concert, I heard him say to the public that he had lost everything when he left Aleppo but that he had won a certainty, that of being a free man. He can live but his people, his family, his community has lost his right to existence. Just look at how our countries welcome them.
That's why this kind of record, and show, produced by Muziekpublique in Brussels, is essential. To restore consistency and existence to music expressions of cultures in danger. Two Tibetans, one Pakistani, one Iraqi, one Afghan, three Syrians and two Belgian musicians who accompany them and manage to weld all together in a harmonious way. Everyone goes there with his singing or his instrument, various lutes, ney, qanun and percussions, and the journey is done gently but in depth, without losing his soul but by disregarding certain boundaries that shared uprooting makes all more fragile. Their music, however, never comes to an amalgam of clichés oriental scrambling tracks. On the contrary, some come to accompany others in respect of each tradition because they feel invited. The song that gives its title to the album, Amina, is the perfect symbol of this sample music. Mohamed Aman Yusufi had to leave Afghanistan. His wandering took him to Pakistan, Iran and Belgium. But his companion Amina stayed far behind and her song expresses this tear; the others then gather around the singer to lend him a hand and feed his melancholy of hope and friendship with their instruments and their voices. The whole album breathes this rich symbolic and imposes itself as a music of the XXI century, totally inactual to the eyes of the cultural decision-makers, one can not more current for those who conceive that one can not listen to the world without listening to his music and vice versa .