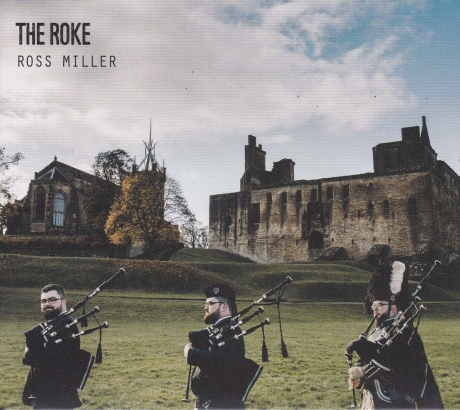 ####
ROSS MILLER
The Roke
Philippe Cousin
Linlithgow is a small town in Scotland, about 30 kilometres west of Edinburgh, and is the home of Ross Miller, the piper I'm introducing to you today.
A gifted musician, he began studying the bagpipes at the age of seven, and at the age of twelve he was already receiving the Young Scot Heritage Award. Designated world bagpipe champion in 2019, he was a finalist in the BBC Scotland Young Traditional Musician of the Year competition. Successively member of several pipe bands, he currently plays in the Invararay and District Pipe Band.
The Roke is his first solo album. The Roke is the official tune of his home town of Linlithgow and he released his album on March 9th on the occasion of his twenty-fifth birthday. Twelve tracks follow one another, either Ross's own compositions or some of his favourite tunes, on an album that perfectly reflects the years of hard work he has devoted to improving his skills. Reels, jigs, waltzes, hornpipes, a few strathspeys to which Ross was able to breathe the modernity that befits his youth. Throughout the titles, he pays tribute to his own parents, Mum and Dad's and his grandmother Grannie Betty's. We even have the surprise to discover a Ton Doubl, a tune he played in August 2019 with the Bagad Cap Caval, during the bagadoù championship in Lorient. The different titles give pride of place to original arrangements and on Quartet, Ross plays alone the four parts of the bagpipe quartet. Bluffing!
Many friends came to assist him among which the guitarist Craig Irving (Mànran, Talisk) or Charlie Stewart on the fiddle. If you still thought that Scottish bagpipe music was boring, because it's always the same, you'll have to review your copy. With Ross Miller the right words are power, energy and originality.
Autoproduit RMM1 – www.birnamcd.com