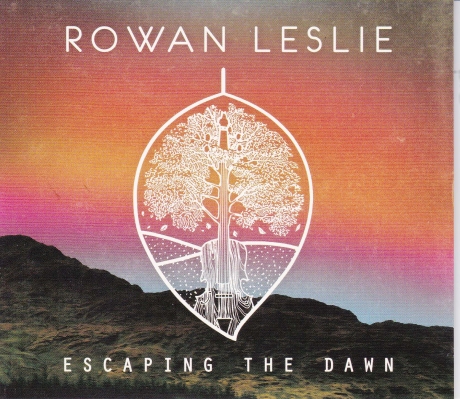 ####
ROWAN LESLIE
Escaping The Dawn
Philippe Cousin
Once again, as the trying goes, value does not wait for the number of years.
Such is the case for Rowan Leslie, a young violinist from North Belfast, who at the age of just 18 had released a superb Itchy Fingers album in 2010. Rowan started playing at the age of 7 with the Derry and Antrim Fiddlers. Then it was with Johnny Murphy, a fiddler and luthier from County Antrim, that he perfected his bowing skills, allowing him to develop a very personal style.
A very precocious musician, he began composing at the age of 13, at the same time as he began playing at various festivals. He continued his musical studies in Newcastle and Limerick. Imbued with Irish tradition, Rowan concentrates on composing dance tunes and melodies.
Apart from a four-track EP in 2017, he had not followed up on his debut album. Recently Rowan has collected original tunes composed by fiddlers from Antrim and Derry in a book called Contemporary Fiddle Tunes from the Northeast of Ireland, a book I told you about here a few months ago.
And a few months later he offers us a second album Escaping The Dawn. Unlike the first CD which featured Irish, Scottish and Canadian tunes, none traditional this time. The ten tracks and twenty-three tunes he presents to us are all pieces of his own composition.
Of course he cannot deny his origins and although he lives in Glasgow, Irish tradition is very present in the music he has composed. Tunes written over the last ten years in Ireland, in Glasgow or abroad, drawing inspiration from all these places. An original stuff, Rowan's music is imbued with all his encounters and this album is a nod to the past and the present.
Still very young and with a more than assured bow stroke that would show it to many seasoned musicians, Rowan Leslie is a talented artist and his new opus is a small musical gem.
Mountain Ash Records MAR2020CD - www.rowanleslie.co.uk