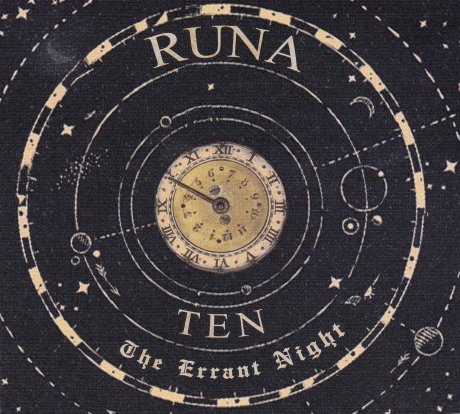 ####
RUNA
Ten - The Errant Night
Philippe Cousin
Another band celebrating its tenth anniversary on stage.
This time I named Runa, a multinational band, including the American from Philadelphia, Sharon Lambert-Ryan on vocals and bodhrán, the Dubliner Fionán De Barra on guitar, the Canadian Cheryl Prashker on percussion, and the four Americans, Maggie White on fiddle and mandolin, Zach White on guitar and mandolin, as well as two newcomers, Caleb Edwards on mandolin and the New Yorker Jake James on fiddle. On the occasion of their tenth anniversary, they present us their sixth album, the well named Ten - The Errant Night which also symbolizes their ten years of touring together.
This time again, the fifteen tracks feature tunes from Ireland, Scotland and the United States, sometimes with a slight touch of jazz, blues, bluegrass and even flamenco. The usual themes of exile, emigration or love dot this friendly album for which Runa's musicians have invited a host of guests, from Moya Brennan to Eileen Ivers and including the brothers Cormac and Éamonn De Barra. Several nuggets are available: John Riley recounts the adventure of this Irish man who left Galway during the Great Famine to join the American army and participate in the American-Mexican war of 1846-1848. Terribly disappointed by the anti-Irish discriminatory conditions, he eventually joined the Mexicans in the famous St. Patrick's Battalion.
We discover a song by the Scottish Karine Polwart Thaney as well as The Green Fields of Canada popularized by Andy Irvine and Planxty. It is also a new version of the standard The Lakes of Pontchartrain. And then the magnificent An Buachaillín performed in Irish language by Moya Brennan.
Runa, a group that relies on the musical diversity of its members to offer us a modern and refreshing approach to tradition.
Autoproduit RUNACD006 - www.runamusic.com