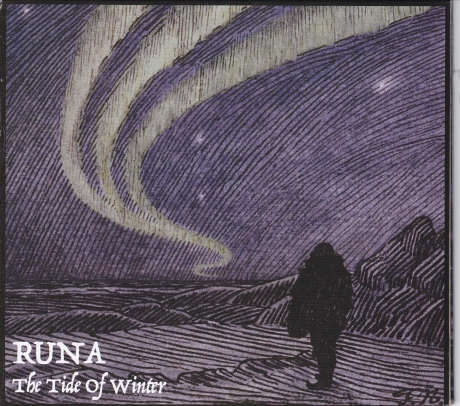 ####
RUNA
The Tide of Winter
Philippe Cousin
Although the Christmas season has passed, winter is still here and it is a seasonal album that I present to you here. This is the album of the Irish-American-Canadian band Runa, which I have already written about on this site and in Trad Magazine.
Formed in 2008, they are celebrating their 15th year on stage with a seventh album, The Tide of Winter. After many internal changes, they have finally found the right quintet formula. American Sharon Lambert-Ryan on vocals and bodhrán, her Dublin husband Fionán de Barra on guitar, Canadian Cheryl Prashker on percussion, and Americans Caleb Edwards on mandolin and banjo and Jake James on fiddle.
Together they continue to push the boundaries of Irish music, bringing it closer to American jazz and bluegrass influences. Mixing haunting melodies with more upbeat tunes from Ireland, Scotland or England, they offer a new vision of traditional music.
The central element of the band is undoubtedly Sharon, whose warm voice defines the sound of Runa, even if she is admirably assisted in the vocal register by Fionán and Caleb. Of the thirteen tracks on the album, only two are instrumental, including Instrumental Medley, a set of Christmas tunes.
At random, we can recognize some classics, Silent Night, or O Come, O Come Emmanuel. And since Christmas is the theme here, we come from The Wexford Carol to God Rest Ye Merry Gentlemen. As for The Snows They Melt the Scoonest, it evokes winter in the Appalachians. More original is the interpretation of a song in French, Noël Nouvelet.
All in all, The Tide of Winter is a light, entertaining album, perfectly suited to the winter season. A demonstration of Runa's great musicality.
Autoproduit RUNACD007 - www.runamusic.com