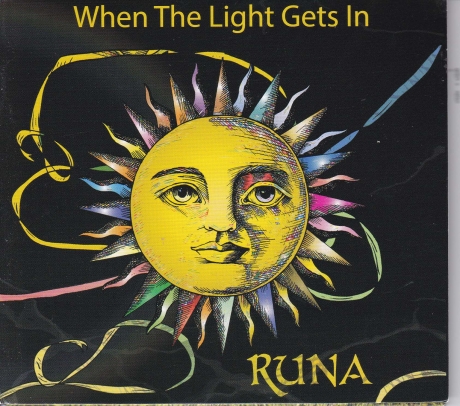 ####
RUNA
When The Light Gets On
Philippe Cousin
And that's eight! After The Tide of Winter a few months ago, Irish-American band Runa are back with their eighth album, When The Light Gets In, which, in these dark autumn months, bodes well for the future.
Tom Fitzgerald has replaced Caleb Edwards on fiddle and mandolin. Caleb is a guest on the album, however. Although heavily influenced by traditional Irish music, this band continues to push the boundaries of tradition, including strong American and roots accents in their music. Haunting melodies and energetic tunes blend with lush harmonies from Ireland and Scotland, introducing the syncopated rhythms of jazz, bluegrass, flamenco and even a touch of blues. It's a fascinating take on traditional music.
This is an album full of superb songs, in English, Irish and Scottish Gaelic, and even in French on La Ziguezon. O Dheara,'Sheanduine, sung in unison in Irish, is a superb opener. As for Hùg Air A'Bhonaid Mhòir, it's a fine example of Highland mouth music, with onomatopoeic lyrics carried by a raging bodhrán, joined by guitar and fiddle to soften the roughness of the notes.
The Clowns has an obvious jazzy flavour, with some fine fiddle flights.
There's a change of pace on Mirk Is This Midnight Hour, with its flamenco accents and lyrics by the great poet Robert Burns. And a moment of serenity with Liam's Lullaby, composed by Fionan De Barra for her son.
This is an album that is varied and complex, yet refreshingly so. A real success.
Autoproduit RUNACD008 -b www.runamusic.com