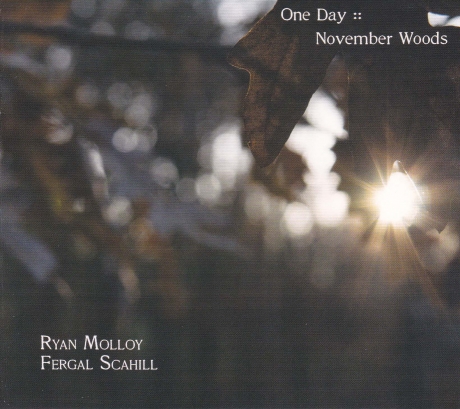 ####
RYAN MOLLOY & FERGAL SCAHILL
One Day - November Woods
Philippe Cousin
Fergal Scahill, a native of Corofin in Co. Clare, is a very active fiddler who does not spare his efforts, dividing his time between the band Banjo 3 and the numerous concerts and workshops he has been leading for more than twenty years all over the world. He has recorded more than forty albums and is in great demand.
He is currently one of the most renowned fiddlers of Irish music. Ryan Molloy, for his part, is a renowned pianist and composer, in great demand as an accompanist, who has a dozen albums to his credit. His repertoire covers a wide range of styles, from traditional Irish music to classical music. A graduate of Oxford and Belfast Universities, he teaches composition at the University of Maynooth in Co. Kildare, west of Dublin.
A few months ago, by the greatest of chances, they found themselves recording a tune for a video broadcast on social networks. The very next day the delighted listeners ask them when they are going to record together. It is this fortuitous combination of circumstances that led them to release this beautiful duo album One Day - November Woods. Eleven tracks recorded in a single day. And the result is impressive.
Ryan and Fergal tackled traditional tunes, some well-known, some not so well-known, as well as a handful of their own songs. No studio tinkering, this is pure music, "The Pure Drop" as the Irish say. We go from bouncy tracks like Murphy's Hornpipe & The Showman's Fancy or Louises's Reel to calmer and more elegant tunes like July 28th, a composition of Ryan. Special mention to the sequel Peacock's Feather 1 & 2 and The Bucks of Ornamore on which the harmony of the musicians and the interaction between the instruments is palpable. Brilliant!
Autoproduit - www.ryanmolloy.ie ou www.fergalscahill.ie