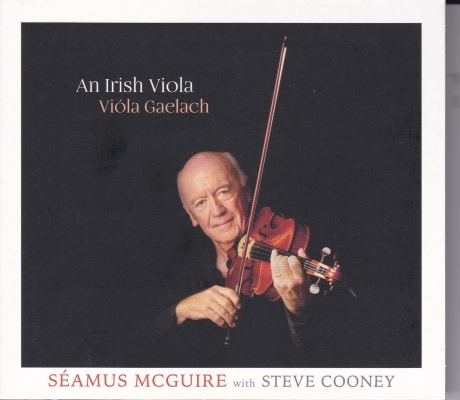 SÉAMUS MCGUIRE
An Irish Viola - Vióla Gaelach
Philippe Cousin
The fiddle is one of the most iconic instruments in the Irish tradition. An instrument that is particularly prevalent in Donegal, where Séamus McGuire lives.
But if he is recognised as one of the masters of the fiddle, he has long had the desire to adapt Irish music to the viola. The warm, deep tones of the viola create something physical that allows the slower vibration of the strings to embrace both the performer and the listener. Taking advantage of the months of lockdown, Séamus finally put his project into action and brought in guitarist Steve Cooney to assist him in bringing An Irish Viola - Vióla Gaelach to life.
The combination of the velvety sound of the viola and the airy resonance of the guitar creates a dreamy, escapist atmosphere. Séamus' delicate touch is perfectly combined with the melodic guitar playing. A member of Buttons & Bows and the West Ocean String Quartet, Séamus McGuire has achieved a symbiosis of traditional and classical music on this album.
These two talented musicians perform a collection of traditional tunes. The album opens with The Dreamer's Reel composed by Séamus, a slow tempo tune that gives an idea of what is to come. This is followed by 13 tracks including The Bonnie Bunch of Roses, Peggy's Dream, An Buachaill Dreoite. Pieces such as Madame Maxwell by T. O'Carolan, An Buachaill Caol Dubh or Planxty Stackallan are on the borderline between traditional and chamber music. The freshness of the interpretation gives new life to old tunes: Paddy Fahey's Reels or Lad O'Beirne's Reel.
Elegance, majesty and delicacy are the appropriate words to describe this beautiful album.
Autoproduit - www.seamusmcguiremusic.com