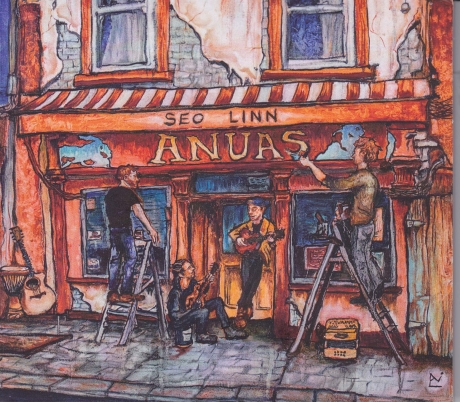 SEO LINN
Anuas
Philippe Cousin
The members of Seo Linn have known each other since the college in Galway. Very attached to the Irish language, they quickly decided to found a band whose repertoire is based on their native language.
They became known in 2013 thanks to a video posted on the YouTube channel TG Lurgan. From then on, they had a string of successes and performed all over the world, in Ireland, Great Britain, Scotland, the USA, Australia and even Uganda, where they took part in a charity mission.
In 2017 they released their first album Solas, featuring the famous song Óró 'Sé do Bheatha 'Bhaile, soberly renamed Óró. They recorded a new video with this song, which became a hit with over 7 million views. Another original feature of the album is that it is accompanied by an interactive workbook for learners of Irish, with the aim of taking the language out of the school and making it real for all young Irish people.
After a single in 2021, they are now back with a second album of ten tracks, Anuas. An album on which the four members of the band have once again chosen to privilege the Irish language by interpreting some of the best known songs of the tradition.
Seo Linn roughly means "Let's go" and so much the energy of which they overflow here is prevalent. For if it is traditional songs that are at stake, their interpretation is the image of the energy and the ardour of these young people.
The album starts with a particularly percussive interpretation of Cailleach an Airgid before easing off very slightly with Fionnghuala, a fine example of Puirt A Beul, popularised in its time by Bothy Band. The soloist's voice supported by a haunting drone on the song Casadh an tSúgain may make the hairs on your arms stand up.
Throughout the tracks you will recognise some standards such as Siúil A Rún, An Poc Ar Buile or Mo Ghile Mear, the Jacobites' song. And then they repeat their hit Óró 'Sé do Bheatha 'Bhaile before concluding the album with a moving rendition of sean nós, Amhrán Mhuínse.
If I add that Seo Linn is made up of Stiofán Ó Fearail (lead vocals and guitar), Daithí Ó Ruaidh (keyboards, sax, flutes and vocals), Kevin Shorthall (accordion, percussion and vocals) and Keith Ó Briain (bass, mandolin, guitar and vocals), you'll know everything about the new darling of Irish youth.
Autoproduit - seolinnoifigiuil@gmail.com