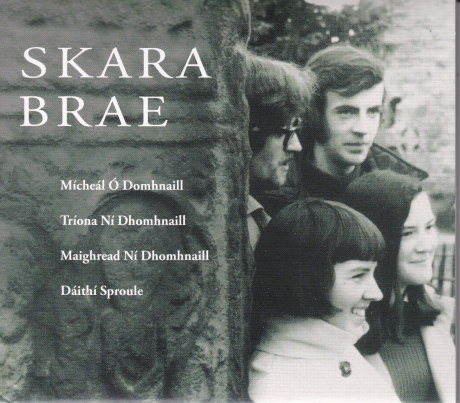 SKARA BRAE
Philippe Cousin
In the early 70's, during the revival of Irish traditional music, at exactly the same time as the band Planxty was taking off, the Ó Domhnaill siblings, Mícheál, Tríona and Maighread, met Dáithí Sproule at an Irish summer school in Rann na Feirste, Donegal Gaeltacht, where they had their family roots.
All musicians, they soon got the hang of it and decided to form the band Skara Brae. And they released their first and only record, an album that has had a cult following ever since. Unfortunately, in 1972, only two years after the band's creation, they split up and went their separate ways, Mícheál and Tríona co-founding the famous Bothy Band.
As the Dublin-based label Gael Linn is about to celebrate its 70th anniversary, they had the idea of reissuing this excellent album.
During their two years of performing, they delighted audiences with a repertoire based entirely on songs from this part of North West Donegal. Mícheál and Dáithí on guitar were accompanied by Tríona on electric harpsichord, which brought a very original sound to traditional Irish music.
The 15 tracks that make up the album have all become traditional standards and have been covered many times by a host of groups, from Irish bands like Altan and Bothy Band and recently by the young Cathal Ó Curráin, to the Breton Alan Stivell and Tri Yann.
Who has never heard An Cailín Rua, Suantraí Hiúdai, Bánchnoic Éireann Ó, Caitlín Tirial or Cad é sin don té sin?
The unison voices of the four singers and in particular the clear and expressive voices of Tríona and Maighread do much for the charm and magic of this group.
This album is a must have for every Irish music lover. So enjoy this new release.
Gael Linn CEFCD031 - www.gaellinn.ie