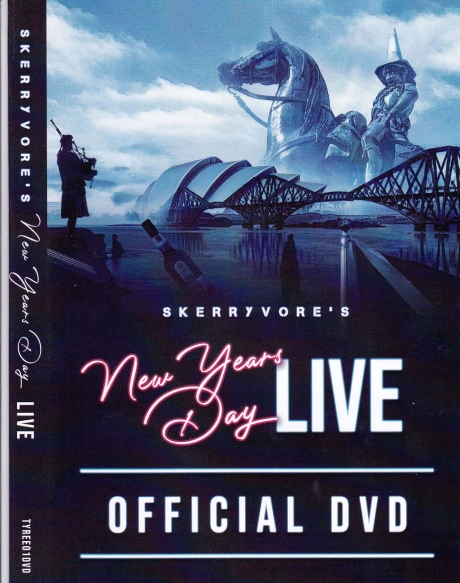 ####
SKERRYVORE'S
New Years Day Live
Philippe Cousin
Let's treat ourselves with the DVD of the Scottish band Skerryvore, which I already talked about in the columns of Trad Magazine.
This band was founded seventeen years ago by the two Gillespie brothers from the island of Tiree in the Inner Hebrides. Over the years, six other musicians have joined them, including a guitarist and singer. They are joined by an accordionist, two pipers and flautists, a fiddler, a pianist and a rhythm section with a drummer and a bassist.
Although they are primarily inspired by traditional Scottish music, the members of Skerryvore have deliberately chosen to give their music a resolutely folk-rock orientation, following in the footsteps of their elders Runrig, who decided to hang up their instruments in 2016. Moreover, their singer Alec Dalglish has a voice that is not without an analogy with Runrig's Bruce Guthro on some songs.
Presented as a live concert, even if the audience is absent, which may seem confusing, you're in for almost an hour and a half of music, as if you were watching their concert from your living room.
Nearly twenty tracks follow one another, with equal parts instrumentals and songs taken from their most recent albums. Some of their hits are: The Ginger Grouse Jigs, At the End of the Line, Hold On, Waiting for the Sun, Live Forever and Take my Hand.
After a short intro, the concert starts with Auld Lang Syne, an old Scottish ballad transcribed by the great Scottish poet Robert Burns. More surprising is the performance of the song Caledonia, a standard written and composed by the Scottish folk-singer Dougie MacLean, a poignant declaration of love to his country Scotland.
If you can't hear them live in France, let yourself be seduced by this excellent virtual concert.
TYREE01DVD - www.skerryvore.com