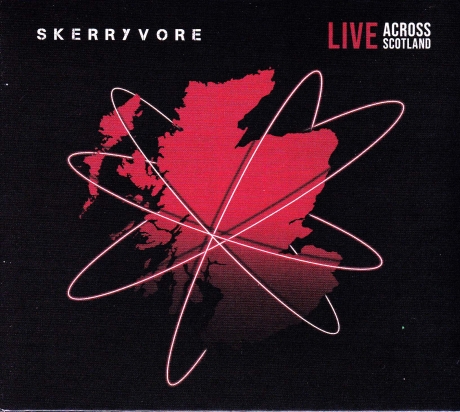 ####
SKERRYVORE
Live Across Scotland
Philippe Cousin
Take two brothers, Daniel (accordion) and Martin Gillespie (bagpipes, whistles and accordion), from the Isle of Tiree on the west coast of Scotland.
Add five other musicians (bagpipes, fiddle, percussion, keyboards and bass) and a guitarist singer, and you have a great band, worthy successor to Runrig. Skerryvore represents the best of contemporary Scottish traditional music. Formed in 2005 they have been taking centre stage ever since with a catchy folk-rock sound. This time they offer us a Live Across Scotland album, recorded during their last Scottish tour between December 2019 and January 2020, in a dozen cities, from Edinburgh to Glasgow, including Inverness, Aberdeen, Fort William and Stirling at the foot of its famous castle.
Fifteen tracks in all gleaned from their seven previous albums, with a predominance of tracks from their latest studio album Evo, as seven of the fifteen tracks are included.
The instrumental Trip to Modera opens the album and shows exactly Skerryvore in all its power. Led by Alec Dalglish's guitar and the double bagpipes attack of Scott Wood and Martin Gillespie, this is the sound that has made Skerryvore so popular over the last fifteen years. On the very melodic Soraidh Slàn we can easily imagine the mists rising over Glencoe near Fort William. And as Skerryvore is a committed band, we will appreciate The Last Time which reveals the false promises of the politicians as well as Can You Hear Us? which goes back on the choice of the Scottish independence. On Live Forever, we feel like we're in the universe of Runrig.
Quite frankly, Skerryvore's roots are deeply rooted in the old Alba but his thistle in bloom touches folk, pop and of course rock of the best vein. A musical tour around Scotland but make no mistake, Skerryvore's heart still beats in the Outer Hebrides.
Tyree Records TYREE10CD - www.skerryvore.com