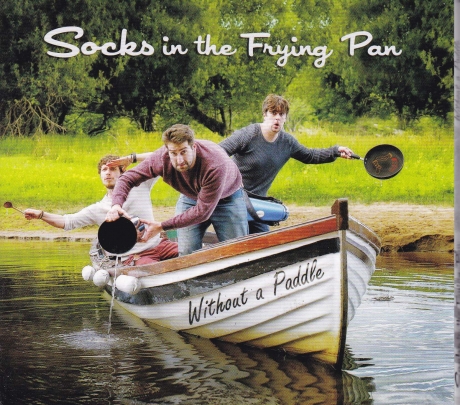 ####
SOCKS IN THE FRYING PAN
Without a Paddle.
Philippe Cousin
After two albums in 2012 and 2015, here we are again with the Socks in the Frying Pan.
Have they softened with time? Not so sure if we judge by the picture of the cover, still as crazy as on their previous album. Because the three members of the band, brothers Shane and Fiachra Hayes and Aodán Coyne still do not take themselves seriously. Finally, on their covers, because in terms of music, it smells like tradition and talent, even if here and there, some musical fantasies come to the fore.
Three years ago they went on a successful North American tour. And it is after this one that they start working on their third album Without a Paddle. An album of eleven tracks - five songs and six instrumental tunes in equal parts between traditional and recent compositions. AS the first two tracks, standards from the sessions in their city of Ennis in co. Clare, the Mecca of Irish music.
Obviously their American tour has left its mark on their repertoire, as it includes the title When First I Came To Caledonia, a song from Cape Breton, Nova Scotia, which refers to the mines of Glace Bay, a region they have been through. There is also The Picnic, another tune from Nova Scotia or the song Missouri Borderlands written by the American Joe Newberry.
But jigs and reels are never far away, Ireland and Clare in particular being pegged to their bodies and souls. The accordion, fiddle and guitar of these three friends resolutely leave their mark on a lively, colourful and energetic music just as energetic as these three great rascals are.
Autoproduit - www.socksinthefryingpan.com