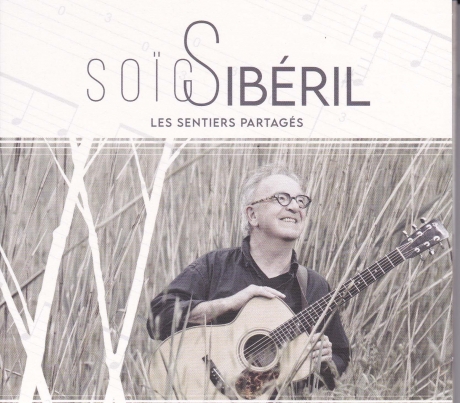 SOÏG SIBÉRIL
Les sentiers partagés
Philippe Cousin
Among all the talented guitarists in Brittany, there is no doubt that Soïg Sibéril occupies a special place.
Since his debut on stage in 1975 with the group Sked, he has come a long way, whether within the many bands he has played in - Kornog, Gwerz, Pennoù Skoulm, Den, Kimiad - or with a host of musicians from Laurent Jouin to Etienne Grandjean, not forgetting Alain Genty, Tony McManus or Dan Ar Braz.
Some twenty years ago he met Jean-Félix Lalanne, with whom he teamed up for the recording and production of his brand new album Les sentiers partagés.
On this twelfth solo album, Soïg has already surrounded himself with a host of talented musicians. Apart from J.F. Lalanne, there are other guitarists: Patrice Marzin, in whose studio the album was recorded, Jean-Marie Écay, Gwen Cahue and Samuelito, as well as Cécile Bonhomme on harp, Yohna Lalanne on violin, Pascal Reva on cajon, Kevin Reveyrand on bass and Balthazar Naturel on English horn.
On this pleasant album, Soïg Sibéril takes us in 15 tracks, almost all of them written by him, on the hollow paths of Kreiz Breizh, where he settled many years ago. But in order not to give in to a certain monotony, a word he ignores, he has invited musicians who are sometimes far away from his Celtic universe, instilling his music with jazzy, gypsy or even flamenco influences.
On these 15 tracks, Soïg has drawn from his rich repertoire and extracted a few gems, some of them old - Al Lizher - others more recent such as Les sentiers partagés which gives its title to the album. We travel from Brittany - Le Korong, Le Yeun, Au pays Fañch - to Galicia and Asturias - "Le Sud" - or to Ireland - Saint Patrack.
The result of all this is an absolutely enthusiastic album that makes room for traditional and modern music at the same time, wide open to encounters. A small masterpiece.
Coop Breizh CD 1199 - www.coop-breizh.fr