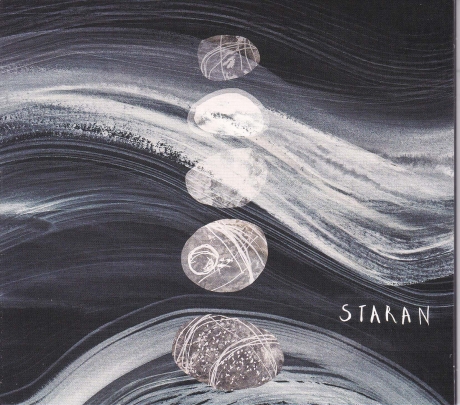 ####
STARAN
Philippe Cousin
Speaking of Staran, I could call them a collective rather than a band.
All of them come from the traditional Scottish scene, they are not newcomers to the scene. Kim Carnie, the singer, is a member of the band Mànran. Jack Smedley, the fiddler from Cullen on the North-East coast, is a founder member of the folk group Rura. Innes White, guitarist and mandolinist, has been immersed in traditional music from an early age and is a Gaelic speaker by birth. He has played on over thirty albums. James Lindsay on double bass pushes the boundaries of Scottish folk, jazz and rock and was once a member of the band Breabach.
Finally, John Lowrie, the pianist, is a leading figure in the Scottish music scene and is in great demand. He, having played with all of them, grouped them together under the name Staran, which means path or trail in Gaelic.
This collective is a meeting of musical minds steeped in various styles. While the overall sound is rooted in traditional music, there is inspiration from jazz, minimalism and experimental electronics.
They have produced a self-titled album that reflects the themes of place and time that run through their music. A lush sound they have woven together where every element can be expressed between original compositions and Gaelic songs. Mixing instrumentals and songs, Staran's repertoire is carried by the piano and the fiddle to which are added from time to time a guitar or a mandolin as melodic support, as well as the deep voice of the singer.
The nine tracks are rich and varied, often intimate, allowing us to appreciate the musicality of the Scottish language. Dà Làimh Sa Phìob, for example, on which Kim's pure voice is delicately supported by simple piano and fiddle notes. There is also Horò Gun Togainn Air Hùgan Fhathast Thu, a traditional song for which Kim composed the melody. The instrumentals give the four musicians the opportunity to explore the interactions between their instruments and the different textures they create.
Staran is an album that will allow you to relax, letting the sounds wash over you in an atmosphere of serenity.
Autoproduit STARAN01CD - www.staranmusic.com