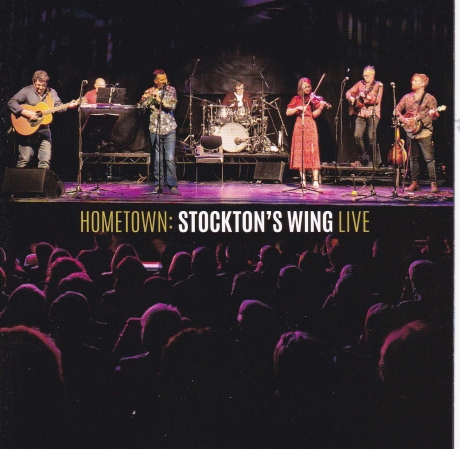 ####
STOCKTON'S WING
Hometown Live
Philippe Cousin
A first self-titled album in 1978. This was followed by a dozen or so others throughout the 1980s and 1990s, which saw them enjoy great success and inject a new dynamic into the traditional Irish scene.
Since the second millennium, Stockton's Wing's career has been a bit muted, punctuated from time to time by an album. Then, in a surprise move in 2020, they played two shows in Ennis and Dublin. Their last shows before the global pandemic hits the Irish coast. And as a result, the release of their album was postponed for two years. But now it's done with the release of Hometown, their new live album.
In so many years Stockton's Wing have seen several musicians come and go, although the original core is still there. Paul Roche on flutes and Mike Hanrahan on guitar and vocals. The third member of the band, Maurice Lennon, has been on a new adventure for several years.
Other accomplices joined them. Karol Lynch on banjo and mandolin, Tara Breen on fiddle, Paul McSherry on guitar and Anton Davis on keyboards and bass.
We have here a very interesting collection of their greatest hits: Drops of Brandy, Walk Away, Aaron's Key, Blackhill, Full Flight. And a few new ones like Hoppy or Chasing Down A Rainbow. And to conclude the concert and the album, two of their best-known songs: Skidoo, which was played over and over again on the airwaves when it was released, and the timeless Beautiful Affair written by Mike Hanrahan.
Despite the passing of forty-odd years, their music has lost none of its innovative edge. Traditional tunes dressed up with a relentless rhythmic pattern, giving it an overflowing energy.
Let's bet that the Wings, as they have been nicknamed by the public, will soon find their way back to the stage and the studio and that they will release a new album in a few months.
Tara Music 3884003 - www.mikehanrahan.com