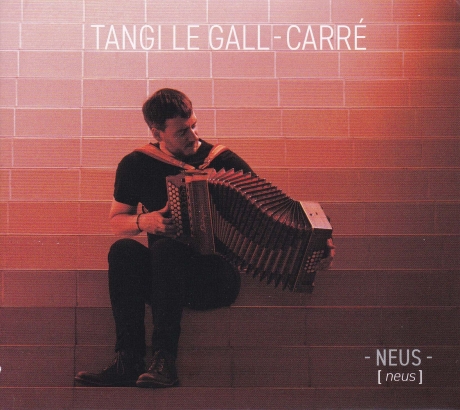 TANGI LE GALL-CARRÉ
Neus
Philippe Cousin
Tangi Le Gall-Carré is one of the most representative Breton accordionists of the new Breton scene.
After six albums with the band Startijenn, which he helped create in 1997 at the age of 14, as well as two other albums with the guitarist Erwan Moal and more recently the album War Hent Youenn Gwernig, for which he was one of the arrangers, he is back at the end of this year with a first album under his own name, Neus.Since 1997 Tangi has composed and arranged a lot of tunes. During his many trips around the world (Germany, Poland, Spain, the Netherlands... and even China) and the many encounters he has had, he has of course developed his own style.
This album is a tribute to his daughter Neus (Snow in Catalan) who died last year.
An album he dedicates to her and which sounds like a liberation for him.
On this superb opus, Tangi reveals all the sensitivity that is his, throughout the thirteen tracks that punctuate the CD. Tracks that he composed from the first to the last note, sometimes energetic and cheerful - Tarzh an deiz/Serr-noz, Ker Annig, sometimes more melancholic - Neus, An Anfin, or An Daeroù (Tears) which concludes the album.
A solo album, we say, if we except the six musicians who accompany him to bring a colourful tone. Musicians who have been friends of Tangi for a long time and who have been his travelling companions. All of them are experts in their field. They are the Breton Sylvain Barou on flute, Ronan Pellen on cittern, Ronan Le bars on uilleann pipes and Julien Stévenin on bass, as well as two Irishmen, Dónal O'Connor on fiddle and John Joe Kelly (from Flook) on bodhrán.
The result is a subtle mix of Breton and Irish-inspired tunes - Kevin's reel/The session, Suchard's favourite - carried by arrangements of the most beautiful effect.
We already knew that Tangi Le Gall-Carré was a talented accordionist. On Neus he surpasses himself, offering us the quintessence of his music, and thus reaching perfection. A real gem.
PAKER PROD 033 - www.pakerprod.bzh