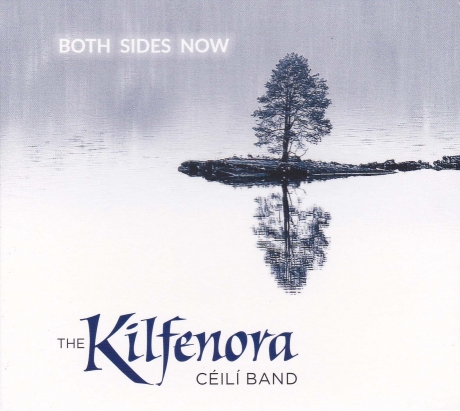 ####
THE KILFENORA CÉILÍ BAND
Both Sides Now
Philippe Cousin
Speaking of longevity about the Kilfenora Céilí Band is not an empty word since its origins date back to the beginning of the 20th century and more precisely to 1909. In other words, generations of musicians have succeeded one another in its ranks.
But what has allowed the Kilfenora Céilí Band to endure for 110 years is its ability to adapt to successive changes while remaining faithful to the recognisable sound of all these formations. Especially when, at the dawn of the 90s, they chose to give priority to the concerts rather than the animation of the dances as was the case for all the céilí bands.
Both Sides Now, their tenth album, is a good illustration of the two facets of their repertoire, tradition on the one hand and modernity on the other, with numerous compositions and the contribution of several guest musicians. The band offers traditional tunes by Charlie and Maurice Lennon, The Handsome Young Maidens or The Stone of Destinity and compositions by their concertina player Tim Collins, Dinky Doofer, Carron or Cathy's Waltzes.
Four songs are performed by singer Edel Vaughan and Jerry Lynch. Joni Mitchell's Both Sides Now, Mick Hanley's Crusader, Sam Starlett's John Condon, a tribute to the youngest Irish soldier (14 years old) who fell during the Great War. And finally John O'Dreams, Bill Caddick's standard. Apart from these songs, reels, jigs, polkas, hornpipes and waltzes follow one another as usual.
A band of thirteen musicians including Garry Shannon on flute, Tim Collins on concertina, John Lynch on banjo as well as fiddles, whistle, accordion, piano, drums and cello, they welcome this time Dónal Lunny himself on some tracks and above all producer of the album. Even if you're not sensitive to céilí's music, take the trouble to listen to this one and you'll have the proof that they've been able to evolve towards a good modernity.
Autoproduit KCB 104 – www.kilfenoraceiliband.com