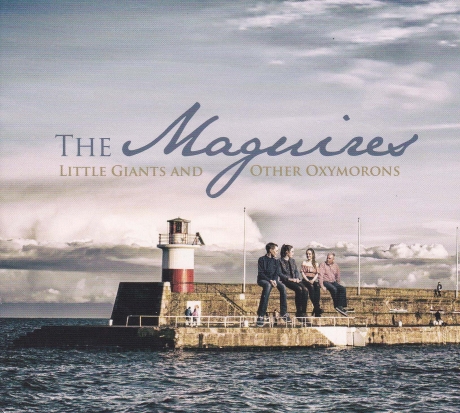 ###
THE MAGUIRES
Little Giants and Other Oxymorons
Philippe Cousin
Playing music as a family is common in Ireland and there are many musical bands that have formed around siblings.
The Maguires are no exception to the rule, since around Philippe, their father's guitarist, we find Emma 18 years old on fiddle, flute and piano, Aoife 16 years old on concertina and uilleann pipes and Seán 13 years old on bodhrán.As the value does not wait for the number of years, they have been performing on Irish and American stages for more than four years now.
Some time ago they released a highly original album, Little Giants and Other Oxymorons, with a somewhat enigmatic title. Their music, however, is not at all enigmatic, as they have mastered the Irish tradition to perfection.
Nearly a dozen tracks for these young prodigies, mostly reels, jigs and hornpipes. If a half of the tunes are traditional, The Moving Clouds, The Maids of Castlebar, The Mason's Apron, O'Carolan's Draught, the other half of the album is composed of tunes written by these young musicians. Elder Emma wrote five of them, The Flattened E Flat, Nightmares, An Tigín, and three others are by Aoife, Na Cailíní, The Mushroom and Furbo's Friend. Philip the father is content with The Seagulls' Blessing.
The talent of these young musicians is obvious, to say the least. Despite their youth, they have already acquired a musical dexterity that represents long hours of practice.
If in Ireland they have gained a certain notoriety, during their tours in the USA, they received a real ovation. And believe me, it is far from being usurped.
Autoproduit TMB1601 - www.maguireband.com