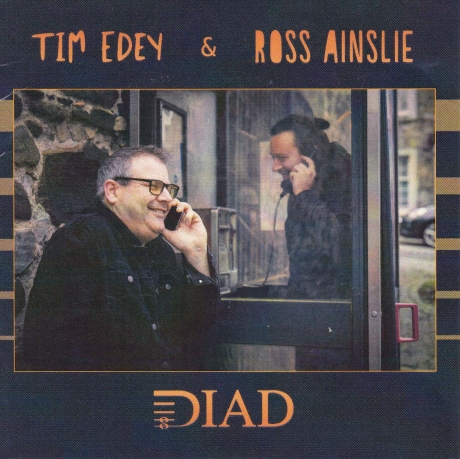 ####
TIM EDEY & ROSS AINSLIE
Diad
Philippe Cousin
I recently told you about Tim Edey and his album Got Rhythm. He is regarded as one of the finest guitarists and melodeon players on the Celtic folk scene and has toured and recorded with a host of musicians from Christy Moore to Altan, from the Chieftains to Lúnasa and Julie Fowlis.
A multiple award-winner, he has also enjoyed a solo career for many years. Ross Ainslie is a teacher at the National Piping Centre in Glasgow and has been named BBC Radio Musician of the Year three times, as well as winning Composer of the Year 2015 at the Scots Trad Music Awards. He plays in several bands and has produced five solo albums himself.
Tim and Ross have been playing together for years and the idea for this album, Diad, was to capture the duo in a live context but in the studio, over the course of a single day, as if it were a concert, in order to retain the spontaneity.
The album opens with a suite of three compositions by Dónal Lunny, including the well-known tunes Coolfin and Trip to Sado. This title immediately sets the tone for an album featuring two virtuosos, Tim on guitar and melodeon and Ross on bagpipes, whistles and cittern. As the bagpipes find their place and the rhythm quickens, the guitar contributes much more than a chord riff.
Quieter tunes follow, with Ross's whistle responding to Tim's guitar in a gentle interplay. The rest of the album follows suit, a succession of sometimes energetic, sometimes calmer tracks, allowing the listener to catch his breath. Donald Shaw (Capercaillie) plays keyboards on three tracks. And the album concludes with a series of Galician dances on which Ross lets loose on the gaïta.
Tim Edey and Ross Ainslie are both acknowledged masters of their respective instruments. With Diad they have managed to capture the spontaneity that characterises their live performances. An album to listen to over and over again.
Great White Records GWR009CD – www.timedey.com